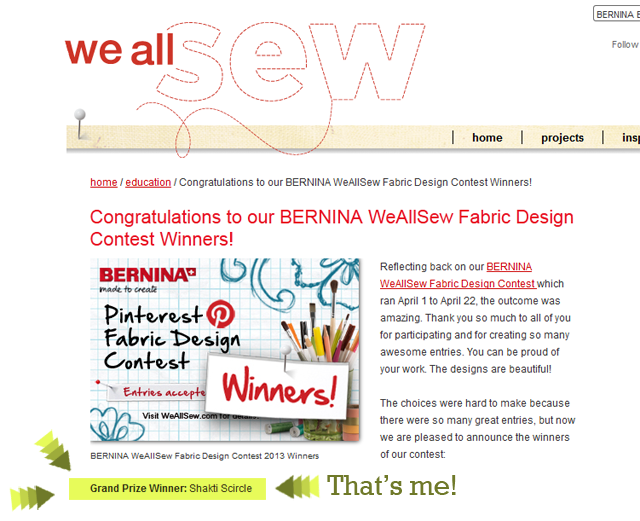 Something awesome has happened. Like really, really awesome.
Do a jig awesome. Squeal awesome. Skitter around awesome.
Then sit and blink for awhile because it's also a bit stunning awesome.
You see, I entered a handful of designs into the
Bernina WeAllSew fabric design contest
.
There were LOADS of great submissions.
However, I am ever so honored to say that the judges picked my pattern for Grand Prize!
What is the Grand Prize? Well, I get a sewing machine that is quite possibly more technically advanced than my vehicle: the uber snazzy
Bernina 710
machine. Plus a few other goodies! Do you know what that means? I can finally return my borrowed Bernina to my sister. Frankly, I never thought I'd be alive the day that happened (over my dead body you can have it back!) but with new things on the way, I will happily relinquish the beloved 801.
Above is the Grand Prize winner
AND
Below is the 2nd Runner Up winner!
Another pattern I submitted was picked! Eeep!
In case you can't tell, I am THRILLED and feel
extremely
blessed and honored.
It was actually the day we were celebrating my birthday that I found out, making it quite possibly the best bday present ever!
* Ahem. *
I feel a shout out to my awesome Aunt is due. I probably wouldn't have known about the contest and certainly wouldn't have entered if not for her prompting. Obviously, I owe her a giant thank you. THANK YOU for thinking I could do this.
:)