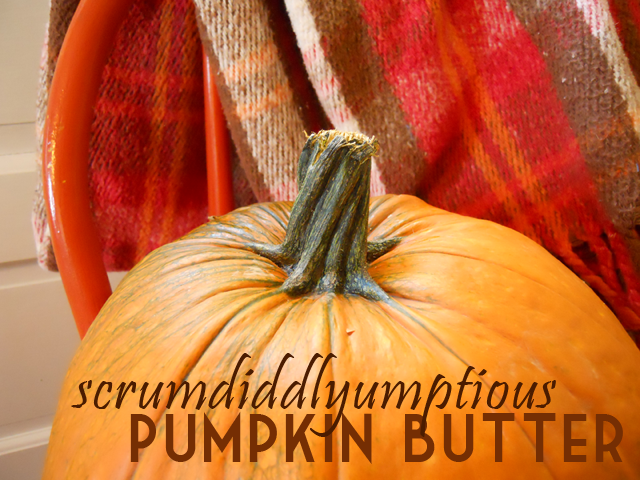 The other day, a lady at my church was sharing how easy it is to make fruit butters such pear, apple, and pumpkin. While she was talking I mentally stashed away her helpful tips, thinking that pumpkins had already been phased out of stock at stores and that I would have to wait until next year to give it a go. Basically, I was wishing 11 months to go by so I could try this delicious concoction. So imagine my delight when I found a big, beautiful pumpkin sitting near my parentals back door just waiting to be eaten!
The recipe I looked up used canned pumpkin, but I used fresh and it was wonderful.
Click to
check out the recipe,
but below I will share how to use a freshy fresh pumpkin with minimal effort and NO peeling!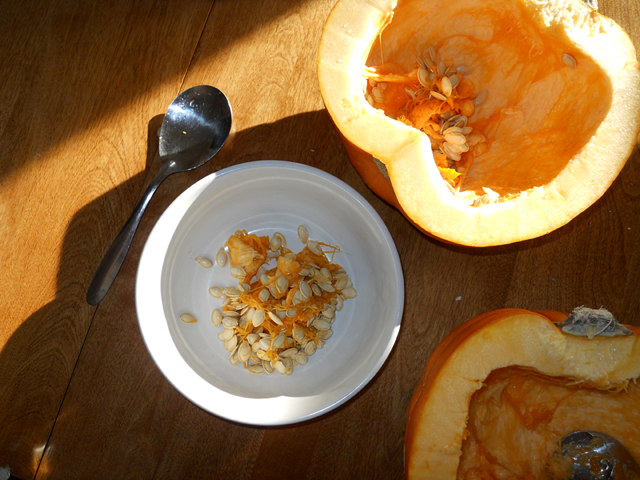 My beautiful helper trying not to get pumpkin slime on her phone as she texts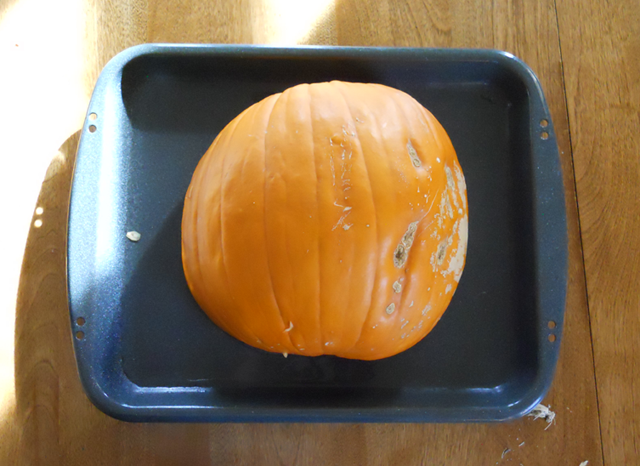 TO GET THE UN-CANNED PUMPKIN SOFT.
First, preheat the oven to 325. While the oven is heating, simply cut the pumpkin in half, remove the seeds, and place it on a lipped pan that has a bit of water in the bottom. This pumpkin was on the large / thick side so I left it in the oven for 2 hours, but if the pumpkin you are using is smaller you might want to reduce the time. When the pumpkin was pulled out of the oven it was so, so soft and was easy to scoop out of the rind and straight into the blender.
Honestly, it was so soft it probably didn't need to go in the blender, but it was an acting measuring cup. Plus I really wanted a nice smooth texture. Plus-plus it did the work of mixing in the other ingredients - my arms were not up for mashing and mixing 60+ ounces of pumpkin ;)
After all the ingredients were blended, it was transferred to a crock-pot to simmer and thicken while we ate dinner. Home-made pumpkin butter on scones makes a pretty perfect dessert in my book. MMMM
FYI!
*
The pumpkin I used made 2 plus batches of pumpkin butter so be sure you know how your going to store it! Fortunately, my mom has a stash of empty glass jars around. We also froze some - from everything I read it should freeze perfectly well. I'll be sad if not - it's soooo good!
*
I would recommend adding half the amount of spices on the ingredient list and then do a taste test. Everyone has their own flavor preferences and it is easier to add more flavor than to try to remove it!
*
Remember - if you use fresh pumpkin the butter will likely be a bit thinner because of the water content.
So there you have it! A scrumptious treat that is perfect for all the holidays that are rapidly approaching. Have you made any fruit butters before? Which are the best?