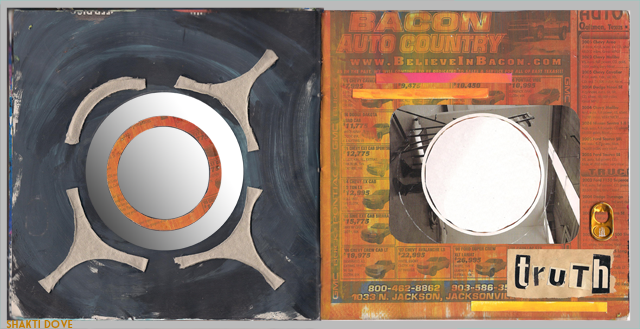 So, I quite like looking at art journals other people make so I'm thinking that sharing some of my pages might become something that is in frequent rotation here on the blog. Any thoughts?
Anyways, this page scanned in a bit funny so let me do a bit of 'splaining...
The circle on the left page is actually a mirror with the orange circle glued on top. The white circle on the right page is actually a hole in the page that peeks through.
Most of my art journaling is fairly free-form, the page just morphs and takes shape as I start working and then once it is done I step back and put a passage, or phrase to it. On this particular page though, I started with the word "truth" and worked backwards.
To simplify the crazy thought and design process behind this page I basically drew inspiration from Proverbs 27:19 which says "Just as water
mirror
s your face, so your face
mirror
s your heart."
(The Message)
And the fact that truth is transparent, with nothing to hide.
AND, just in case you were wondering, I made the journal out of newspaper that I hand bound together and then painted.