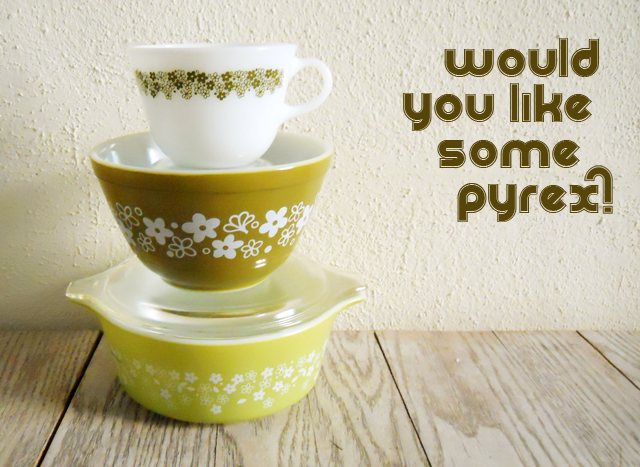 Lovelies! I have news for you that maybe might make Monday a bit less painful...
I am giving away some pretty Spring Blossom Pyrex! Why? Just. Because.
You see, now that
one yellow bowl
has caused a soft spot in my heart I have hawk-like eyes for all things Pyrex. The unfortunate (fortunate for YOU) thing is, green does not belong in my kitchen. I tried to make it work, I really did, but with all the red adding green dishes makes it look like Christmas exploded. Not quite the look I was going for.
So who has a kitchen that wants the green Spring Blossom Pyrex? Leave a comment and let me know!
The only
firm
requirement
is that you subscribe to my blog via Google Friend Connect AND/OR Bloglovin and leave a comment telling me you have done so. (If you do both leave separate comments!)
However, if you want to tweet about the give away, or stalk me on instagram, or leave a link to a Pyrex post you did, or
whatever
, as an
optional entry
I'm cool with that and will count it. Just leave them all in a separate comment so they get properly counted!
I know it's a bit unstructured but you're a whiz and can handle it :D
The lucky winner will be selected at random in a week or so.
PS! - As part of our partnership (and since she graciously gave me her large sponsor spot for May), I answered some questions for Melanie over on her
blog
. :D