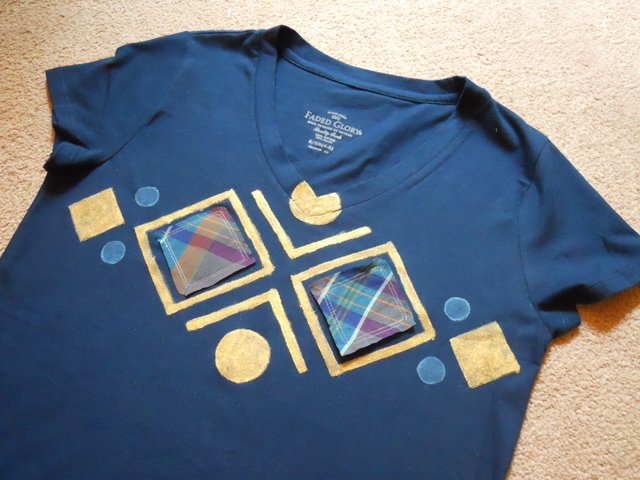 I suck a coming up with clever, catchy titles.
My apologies.
Thank you for bearing with me.
Today I'm going to show you how I made
Melanie's
tribal t-shirt. Let's jump right in shall we?
WHAT YOU WILL NEED:
t-shirt, cardboard, fabric paint (or do as I do, acrylic and fabric medium), paint brush, stuff to make a stencil (paper, pencil, exacto knife), tiny bit of fabric, interfacing, sewing utensils or a machine
It might seem a bit overwhelming because you need paint and fabric and interfacing and pins and crafty supplies are flying everywhere but fear not. Yes, it's "mixed media" but I promise, it is a cinch.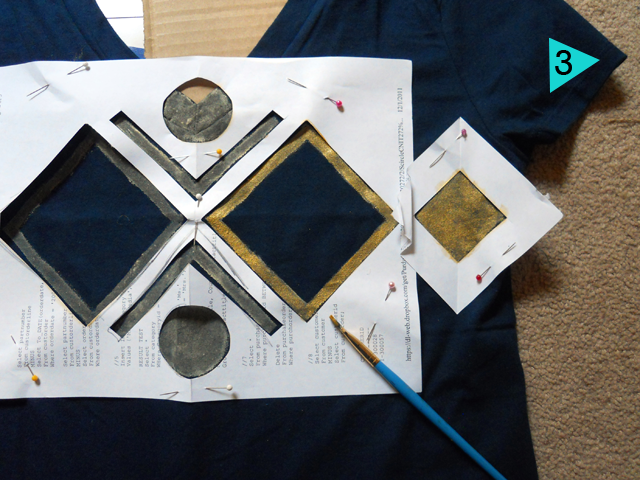 1)
On a piece of paper sketch out your pattern. Because I choose a symmetrical tribal design I folded the paper in half and then in half again to make sure the cuts were identical.
2)
Pin the pattern in place and slide cardboard inside the shirt.
3)
Using the cocktail of acrylic paint and fabric medium (or just plain awesome fabric paint) start painting! Depending on the color of the shirt it might take several coats of paint. I even chose to lay an off-white 'primer' layer.
4)
Iron a bit of light weight interfacing on the back of the fabric scraps and cut the fabric to fit comfortably in the open diamond.
5)
Pin and stitch the fabric in place. I left the edges raw to give the shirt added texture as it ages.
*** Once the fabric is in place step back and assess!
You might want to add a few colored circles just for kicks like I did :)
REMEMBER:
heat set the paint!
Doesn't she wear it quite well? It makes my heart happy. Over on her
blog
she is sharing how she whipped together the
dress
she made for me. Check it.
- - -
Do you love being crafty? ME TOO!
Follow along on Bloglovin'
so you don't miss the next bit of DIY goodness I have coming your way :)