I went on a thrifting excursion with the intention of finding a few pairs of shorts. I returned home with a bag full of other goodies and no shorts. Does this happen to anyone else?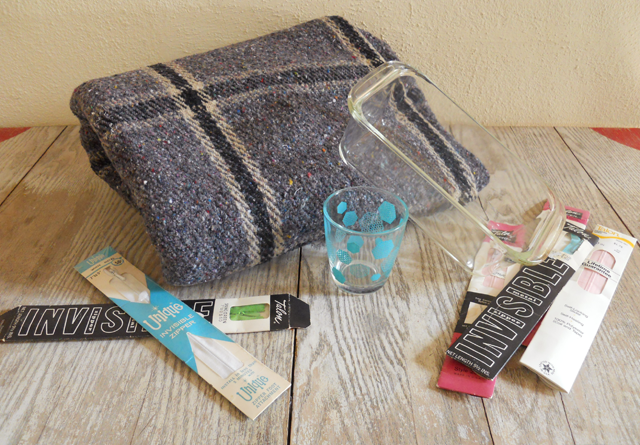 That glass bread pan pleases me most! I came across a couple metal pans, but they looked like a bear had mauled them and really should just be scrapped for the metal. When Keith saw the pan on the counter he asked if I would be making banana bread tonight. Can you tell someones excited?
The search for the perfect Park Blanket had been going on for while and my prayers have finally been answered with that adorable grey plaid one. It's dark enough that it won't show grass stains or mud and thick enough that it should keep our bums dry and handle many washings. It's absolutely perfect for when we walk to the park for concerts - much easier to carry than lawn chairs.
On the tag it says Disposable Blanket. What on earth does that mean?
I also got a handful of zippers and a charming retro glass with a funky geometric honey comb print. I don't really
need
the glass but I just couldn't resist. ;)