One of my desires for 2012 is to enjoy the simple things in life, the details. I've been feeling conviction in the area of materialism. I love stuff, especially
cute
and
vintage
stuff, but lately it's felt like the apartment and my life are cluttered. I suppose it's normal to acquire lots of things during the first year of married life, but now I desire space to sort out my thoughts and emotions. Room to grow mentally and spiritually. Part of this process of simplifying is to be more purposeful in what I buy and how I use things and to enjoy the things I already have. It will be a challenge but I'm also excited because this is also an opportunity for creativity!
Anyways, that's what's on my heart.
So yesterday was pretty simple and completely lovely. Here are some snaps.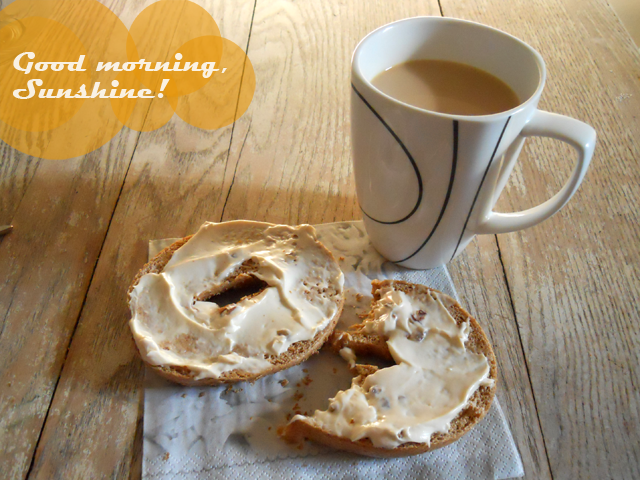 Breakfast at noon.
hehehe
. A tasty, tasty wheat bagel with honey-nut cream cheese and a cup of hazelnut coffee. Keith is a goon and calls it 'hazzel-newt' coffee. That man makes me giggle.
Pretty thread, shiny shoes, and silly socks. If my dad had seen me wearing those socks and shoes together the teasing would have been relentless.
I don't care what anyone says, I LOVE McDonald's french fries!
Do you see why I love this man? We went to my parentals for a home cooked meal of meatloaf and to get our massive pile of dirty laundry tamed. It just so happens that they have the most snuggly kitty in the world who loves to take cuddle naps.
It was a beautiful sunset. Unfortunately, my camera really didn't do the colors justice.
Mmmm. Life is good.
I am blessed.